Graphic Overlay & Conductive
The applications for industrial screen printing in the world of printed electronics and graphic overlay are limitless.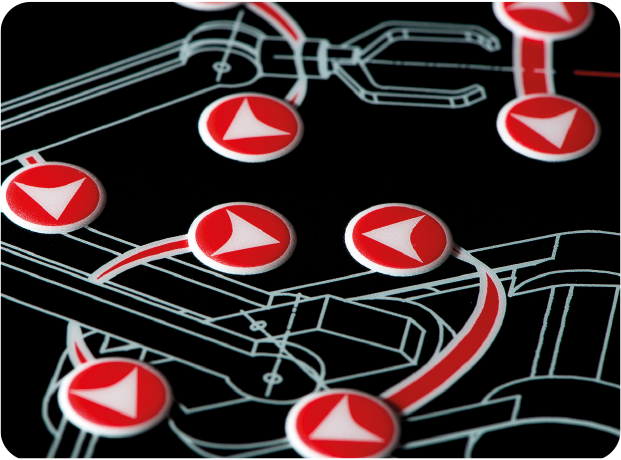 Discover Natgraph's cutting-edge drying solutions tailored for the graphic market. Our advanced technology is designed to optimize the drying process across a wide range of applications, including but not limited to printed electronics, flexible printed electronics, silver conductive inks, nano inks, wearable devices, sensors, resistors, and membrane switches.
With Natgraph's expertise, you can achieve impeccable results by ensuring efficient and consistent drying of your graphic materials. Our innovative drying solutions are engineered to meet the specific requirements of the graphic industry, enabling faster production cycles and superior quality output.
Whether you're working with printed electronics, where precise drying is crucial for performance and reliability, or flexible printed electronics that demand flexibility and durability, Natgraph's solutions offer unmatched performance. Our drying systems are also optimized for silver conductive inks, nano inks, and other specialized inks, allowing you to achieve a dry, optimised print, every time.
Partner with Natgraph and experience the difference in drying solutions. Our commitment to innovation and customer satisfaction guarantees that you'll receive industry-leading drying solutions for your graphic applications. Increase your productivity, enhance your product quality, and stay ahead in the graphic market with Natgraph's reliable and efficient drying solutions.

Natgraph has over 40 years of experience in providing drying and curing solutions.
We design and manufacture all aspects of our products in our vertically integrated Nottinghamshire factory and are routinely asked to build equipment with very specific features. This means that in addition to well established and proven layouts for numerous applications, we are also able to cater for the less conventional process.
If you would like further information about our products and services, please complete the form below and we will send a copy of our brochure to you.
Inside Natgraph's Factory
Take a look behind the scenes and see how our dryers are made